Governments want to obtain a good rating in the Mutual Evaluation, as a bad one has a direct impact on the financial standing of the country. The tendency is to over-regulate the NPO sector and have a one-size-fits-all instead of a risk-based approach. This is not effective either for the government in terms of its AML/CFT mandate or for the NPOs in terms of their day-to-day operations.
Nonprofit organisations (NPOs) around the world have faced operational and legal restrictions. This has had a negative effect on NPOs' abilities to implement activities and protect the needs of beneficiaries, especially in crisis or conflict areas.
Some examples of over-regulation include (more here):
restrictions on the formation of organizations: introducing burdensome licencing and governance requirements;
restrictions on the ability to advocate for change: limiting the ability of NPOs to associate, and the branding of human rights defenders as terrorists
restrictions on the access to information and communication technology (ICT)
legal barriers impeding the ability of NPOs to access foreign funding in the form of grants and donations or otherwise
burdensome reporting requirements
Consequences of these restrictions:
No delivery of food, medicine, education
Cancelled projects, less services for communities, etc.
Resources spent on bank transactions rather than on mission-critical activity
Damage to reputation of NPO
Limited ability to raise funds for NPO services nationally and across borders
Until recently, these restrictions were justified by citing the requirements of the Financial Action Task Force (FATF) regime and, specifically, of Recommendation 8.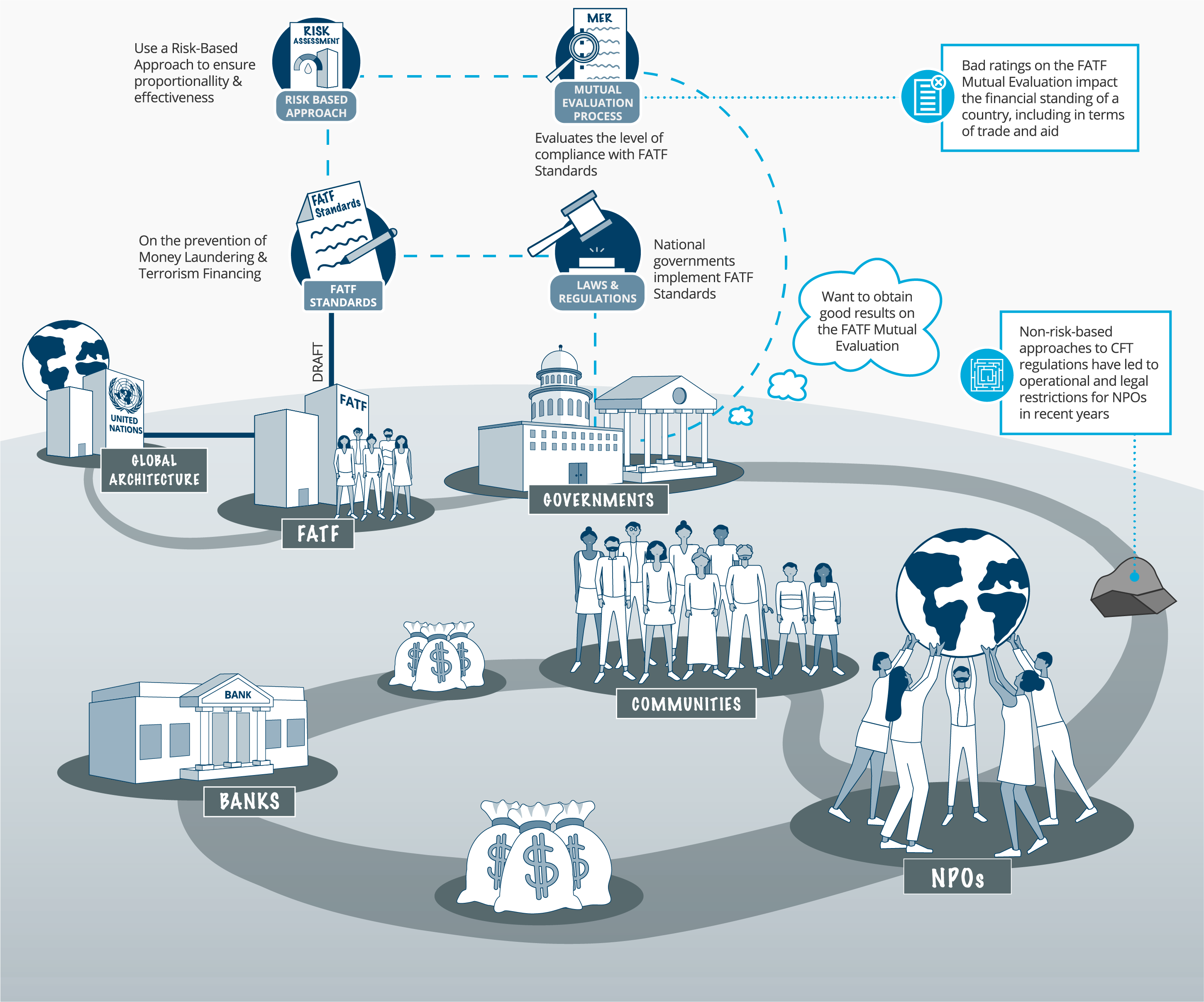 The following civil society organizations monitor and report on the state of civil society regulation:
ICNL:
International Center for Not-for-Profit Law's Civic Freedom Monitor has up-to-date country-specific information on legal issues affecting civil society and civic freedoms, including freedoms of association, expression, and peaceful assembly.
CIVICUS:
Civicus' Enabling Environment Index(EEI) examines conditions within which civil society work. It ranks the governance, socio-cultural and socio-economic environments for civil society in 109 countries. Civicus also publishes an annual State of Civil Society Report.